Chicava HoneyChild is a burlesque danseur, historian, teacher, and producer.
Sacred Burlesque emerged from Chicava's lifelong creative journey. Dance flowed through Chicava from an early age and led her to spend her after school time in dance class from grade school through high school. A Boulder, Colorado native she began her Hatha Yoga practice around the age of nine with her mom. In her early teens, she began training with Denver's Cleo Parker Robinson Training company. Around the same time, she stumbled upon the teachings of Krishnamurti, The Seth Books and astrologer Linda Goodman, which set her off on a lifelong exploration of the metaphysical, esoteric and quantum reality.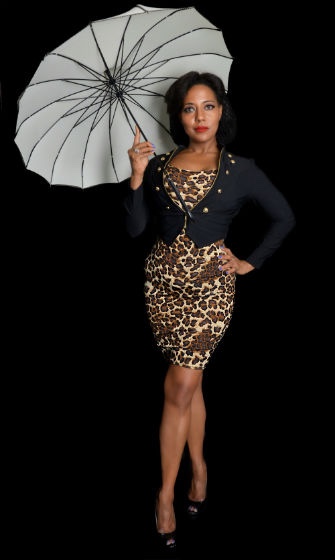 Chicava is the proprietress of New York City's Brown Girls Burlesque and lead teacher of The Broad Squad Institute. A scholar of performance art, women of color in burlesque heritage, and sacred sexuality and spirituality, she received her MFA from Goddard College.
This blend of academic study, dance and burlesque performance, as well as deep immersion in several spiritual disciplines, gives Chicava a unique palette of knowledge and experience to work with. Not only does she evoke profound experience in her students, she also shares the wisdom and understanding she's gleaned throughout her journey.
As an artist in residence at Joe's Pub at the Public Theater in NYC, Chicava produces an immersive DJ based burlesque show called Last Night A DJ Saved My Life and a live blues & jazz burlesque revue called The Dirty Honey Shake. She travels internationally presenting variations of her burlesque theater. Her most recent show was in China. Chicava also lectures and performs on the university circuit.
She is currently working on Sister Shake, a documentary and companion book on the legacy of Women of Color in burlesque heritage and Sacred Burlesque. Chicava's acting credits include ork with Spike Lee and Robert Altman, and she stars in the indie feature Title VII, which is currently on the festival circuit.